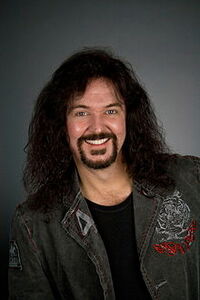 Wallace E. "Wally" Wingert (born May 6, 1961) is an American actor and voice artist. He is originally from Sioux Falls, South Dakota, but he currently works and lives in Los Angeles, California. He is the current announcer for the second incarnation of The Tonight Show with Jay Leno, and the current voice of Jon Arbuckle in The Garfield Show. He is also known for his role of the Riddler from Batman: Arkham Asylum and Batman: Arkham City as well as his English dub role of Wild Tiger from Tiger and Bunny anime. Wally had reprised his role as Henry Pym/Ant-Man/Giant-Man/Yellowjacket in the video games Marvel: Ultimate Alliance 2 (who appears as Yellowjacket in this video game) and Marvel Heroes. He also reprised his role as M.O.D.O.C. in the video games Marvel vs. Capcom 3: Fate of Two Worlds and Ultimate Marvel vs. Capcom 3.
Roles
External links
Ad blocker interference detected!
Wikia is a free-to-use site that makes money from advertising. We have a modified experience for viewers using ad blockers

Wikia is not accessible if you've made further modifications. Remove the custom ad blocker rule(s) and the page will load as expected.