There is a blog for this here: http://marvel.wikia.com/User_blog:JoePlay/The_Avengers_Battle_Royale_-_The_Free_For_All:_Part_1 You can give two characters and others can vote on who they think would win. A battle for the start:
vs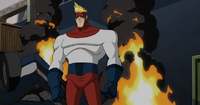 Ad blocker interference detected!
Wikia is a free-to-use site that makes money from advertising. We have a modified experience for viewers using ad blockers

Wikia is not accessible if you've made further modifications. Remove the custom ad blocker rule(s) and the page will load as expected.