Marvel has been pulling some crap lately and the most notable is EMH's cancellation. Due to the success of The Avengers movie, Marvel wants faces the kids will be familiar with and a Giant Cat, Mutant Bug, A military badass women, and Shorty scientist, just aren't the faces they're looking for. Adding to the fact, Leph Loeb hates story arcs, though I agree with him about having to come into the middle of a series and not know what the hell is going on, but that just gets me to want to watch the show even MORE. Fill in the Blanks, ya know.
Now, I haven't watched the remaining episodes of EMH, because I couldn't bare the fact that it would be cancelled and that Josh Keaton's voice was dubbed by Drake Bell. Josh Keaton though shrugged it off, but many Spectacular Spider-Man fans and people who just hate Ultimate Spider-Man all together, were really pissed. And they have the right to be.
I honestly thought that that the costume change in Season 2 would make them more recognizable to their movie counterparts but, I guess KIDS still don't understand who they are. I'm even considering the fact that the studio forced the creators to change the costumes to match the movie, because apparently this show is suppose to be more inline with the Avengers Comic, reason for how the show was drawn.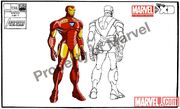 I'm not saying all kids are umm....nice word, nice word...ummmm, "not up to a certain intelligence level", but that's how Marvel and many other entertainment people see it. Kids can't enjoy nor understand quality television in their eyes. Ultimate Spider-Man is a perfect example of that, I don't hate the show because it completely messes up Spidey's character (Nowadays, every character is bound to get messed up), but I hate the show because it feels the need to dumb down to a very low childrens level. Breaking the forth wall, some might say it's a rip-off of Deadpool but, it's not trying to rip Deadpool off, the creators really think kids are too "stupid" enough to figure things out on their own. Now I'll just leave it at that because I don't want to turn this into the "Ultimate Spider-Man ranting blog" and I certainly don't want to offend people who like the show.
Though, you can't entirely blame Jeph Loeb for this show's cancellation, the ratings for this show weren't really good, but it did outrank another show that happens to air before it. The show appealed more to fans then others. And the show did sometimes have confusing stories. But you can blame him for cutting in on EMH's after the Spider-Man episode. Yep that's right. Joshua Fine and Christopher Yost left the show after "Along Came a Spider", and Jeph Loeb picked it up from there.
Now on to Season 3, the creators had plans to make this a "magic" season, revolving all around magic. That would have been interesting. We could have seen Dr. Strange and some other magical marvel beings, but the show has been cut short. I just can't muster up the strength to watch the last few episodes and seeing how everyone is acting, I am gonna guess it didn't end out on a good note. But, that's how TV works. You can have all the rantings in the world, and it'll still get cancelled. And once again, a good Marvel show joins the cancellation box.
So lets all mourn the premature cancellation of Avengers: Earth's Mightiest Heroes.
Ad blocker interference detected!
Wikia is a free-to-use site that makes money from advertising. We have a modified experience for viewers using ad blockers

Wikia is not accessible if you've made further modifications. Remove the custom ad blocker rule(s) and the page will load as expected.