Follow Comic-Con on


Marvel at SDCC 2012, Marvel Animation, and SDCC 2012.
Avengers Assemble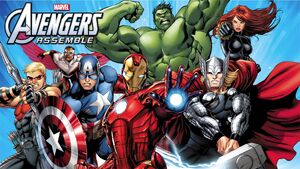 The rumors about Avengers: EMH being cancelled where said to be true, but Leph Loeb says it is not. Footage of the new Avengers Assemble show was shown at Comic Con, along with a Ultimate Spider-Man and Hulk and The Agents of S.M.A.S.H., Loeb has said the "They have decided to transition the series into Avengers Assemble, which better reflects the cast in the movie. But it will be a continuation of the old series, and will not stamp on the continuity, perform a reboot or give a new continuity. It will just grow...".
This is, well, a confirmation the EMH is not cancelled, but is being moved to a new title, design, etc.
Footage shown featured a giant dragon attacking Manhattan as Iron Man flies the Quinjet with the team on board. Hulk pushes Thor aside and tells him, "You'll be lucky if there's anything left to smash", before jumping out of the plane. Hawkeye and Captain America are on mini jets, while Iron Man shoots missiles at the creature causing it to fall down and then get back up.
Avengers: Earth's Mightiest Heroes hasn't been cancelled as Avengers Assemble is being viewed as a continuation of that series.
I've only seen that much footage, if you would like to veiw it, I am guessing Marvel will have it up on their Youtube account really soon. Avengers Assemble will air next year.
Ultimate Spider-Man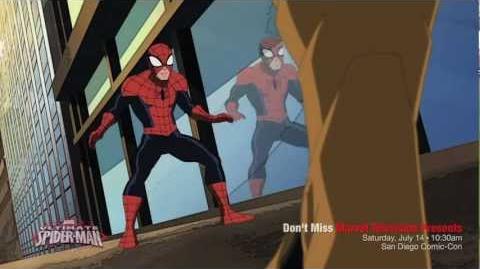 After Avengers Assemble and Hulk and The agents of S.M.A.S.H. footage, Jeph Loeb moved on to the Ultimate Spider-man's second season. First, Jeph called the show, the #1 Tv program of Disney XD (no ratings or proof given, even though the scarce available ratings data showed Avengers EMH was doing better, but let's not argue that). Loeb then showed a slide when Spidey and his teammates are up against some of the villains of the second season of the show. The villains are Lizard, Rhino, Kraven, and Electro.
Fans attending this panel will also receive one of the limited edition Ultimate Spider-Man button, available only at this panel and while supplies last! Button can be viewed here.
Hulk and The Agents of S.M.A.S.H.
Over at the Marvel Television San Diego Comic Con panel, Jeph loeb showed a test footage (Just Like agentx has predicted) of the upcoming Hulk and The agents of Smash.
The test footage shows the SMASH team fighting some bug like creatures. She-Hulk punches one of them, and Red Hulk uses a big gun. Marvel's own Strommy confirmed that Hulk and The Agents of Smash is geared towards a younger audience (again like AgentX has confirmed to us months ago). Strommy about hulk and the agents of Smash: " It is aimed at a younger audience, but will still be very enjoyable to older fans."
Follow
Can't make it to the convention to see Marvel (Booth #2329)? Follow along on the Events App & events.marvel.com, the best way to get exclusive videos, real-time announcements from the convention floor and up-to-the-minute panel, in-booth, and signing schedules of all your favorite Marvel creators!
Share your thoughts below. Please remain civil and don't attack other users on their personal opinions. - ٩(͡๏̯͡๏)۶ Regular Guy
Ad blocker interference detected!
Wikia is a free-to-use site that makes money from advertising. We have a modified experience for viewers using ad blockers

Wikia is not accessible if you've made further modifications. Remove the custom ad blocker rule(s) and the page will load as expected.