The Avengers: Earth's Mightiest Heroes
Talk

0
Share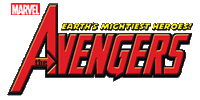 The Avengers: Earth's Mightiest Heroes is an American animated television series by Marvel Animation in cooperation with Film Roman based on the Marvel Comics superhero team the Avengers. The show debuted on Disney XD in Fall 2010 starting with a 20 part micro-series.

The series initially features a team based on the roster for the original Avengers, composed of Iron Man, Giant-Man, Hulk, Thor, and the Wasp. The team is later joined by Captain America, Black Panther, and Hawkeye.
In terms of tone and style, the series is based primarily on the original stories by Stan Lee and Jack Kirby. However, it also tends to utilize material from all eras of the comic's run and other sources such as the Marvel Cinematic Universe.
Plot
Season One
As the world's most dangerous super-villains break out of the Vault, the Cube, the Big House, and the Raft, five of Earth's mightiest heroes assemble a crime fighting alliance called the Avengers. The Avengers team includes Iron Man as team leader, Ant-Man, Thor, The Hulk, and The Wasp. Captain America, Black Panther, and Hawkeye have since joined the roster. Who might be responsibility for which the Avengers opposes?
Season Two
After saving Asgard from a certain threat, Captain America got replaced by a Skrull imposter as other superheroes, supervillains and others have been and the imposters are manipulating events which leds to the Secret Invasion. Only few people know that might gonna happen and must do something to stop it before its too late but how can they trust anyone since the Skrulls had already infiltrated every organization in the planet?
Main Cast
Crew
Joshua Fine - Supervising Producer
Vinton Heuck - Director
Sebastian Montes - Director
Jamie Simone - Casting and Voice Director
Christopher Yost - Story Editor
Ad blocker interference detected!
Wikia is a free-to-use site that makes money from advertising. We have a modified experience for viewers using ad blockers

Wikia is not accessible if you've made further modifications. Remove the custom ad blocker rule(s) and the page will load as expected.