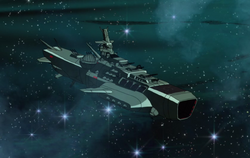 The Skuttlebutt is a huge Korbinite ship that carries the surviving Korbinites in frozen capsules guarded by Beta Ray Bill, their chosen hero.
The Skuttlebutt has an A.I. that helps and assist Beta Ray Bill in maintain and defending the ship against various enemies.
History
Beta Ray Bill used Skuttlebutt to evacuate his home planet Korbin before it was destroyed by Surtur's marauding Fire Demon army. Thor arrived on the scene and was mistaken by Bill for a demon; they fought inside the ship until Bill was teleported to Asgard.[1]
While Thor and Beta Ray Bill were away, Skuttlebutt was attacked by Surtur's forces, led by the possessed Enchantress. Skuttlebutt and the frozen Korbinites were saved by Bill, who had been given the hammer Stormbreaker; and his allies, Thor and Sif.[1]
Specs
Various Korbinite defense weapons systems
Skuttlebutt A.I.
Appearances
References
Ad blocker interference detected!
Wikia is a free-to-use site that makes money from advertising. We have a modified experience for viewers using ad blockers

Wikia is not accessible if you've made further modifications. Remove the custom ad blocker rule(s) and the page will load as expected.