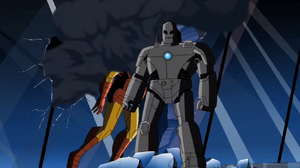 The Mark I Armor is the first Iron Man Armor Tony Stark built. It was the template of all advanced and powerful Iron Man armored suits.
History
The Mark I armor was built by Tony Stark to use it in his escape from the Ten Rings who kidnapped him to make destructive weapons for them. Though it's crude, it's powerful enough to allow him to escape and return to America.
Back in America, he rebuilt the Mark I and used it to create a more high-tech and sophisticated suits of armor. He even upgraded his first armor with RepulsorTech but didn't add the computer systems in case if someone took control of all the armors. Since Stark uses some other new armors, the Mark I was decommisioned ever since.
Tony uses it against Ultron when Ultron took control all of the Iron Man armors to destroy the Avengers. It was destroyed in the battle against Ultron.[1]
It was presumably later rebuilt after the battle.
When the Enchantress depowered the main three Avengers, the Mark IX Armor was regressed into the Mark I but was later changed back.
Specs
Repulsors[1]
Uni-Beam[1]
Repulsor Boot Jets[1]
Missile Launchers[1]
Flamethrowers
Static Jammer
Two-Way Radio
Bulletproof
Appearance
The Mark I armor resembles the version from the live action Iron Man film. The Mark I of the show has a glowing arc reactor, repulsors, better armor plating and no RPG rockets on its arms. 
Appearances
Ultron-5 (first appearance)
Ultron Imperative 
Powerless (last appearance)
References
Ad blocker interference detected!
Wikia is a free-to-use site that makes money from advertising. We have a modified experience for viewers using ad blockers

Wikia is not accessible if you've made further modifications. Remove the custom ad blocker rule(s) and the page will load as expected.