Hawkeye's Bow and Trick Arrows
are the main weapons of the
archer
of the
Avengers
.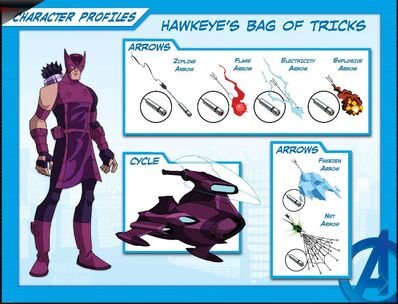 Description
The bow is used to aim and lock on the trick arrows to hit on foes while the trick arrows are both lethal and non-lethal which Hawkeye uses them mostly.
The trick arrows contain:
Explosives
Smokescreen
Gamma Absorbing
Electrical Shocker
Grappling Cable
Nets
Cryogenics
Pyros
Shield Disrupter
Magical Discharges
Sonic Disruption
Drill
Ad blocker interference detected!
Wikia is a free-to-use site that makes money from advertising. We have a modified experience for viewers using ad blockers

Wikia is not accessible if you've made further modifications. Remove the custom ad blocker rule(s) and the page will load as expected.