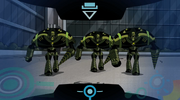 HYDRA Dreadnoughts are combat amored automatons of HYDRA's military forces upgraded with stolen StarkTech weapons. Their immense strength and weapons are almost compared to Hulk and Iron Man in combat.
Specs
Flamethrowers
Guided/Heatseeking Missiles
Large Drill
Superstrength
Armadrillo Ball Mode
Repulsor Shielding
Mental-Immunity
Laser Eyes
AI Mind (No brainwaves)
Appearances
Ad blocker interference detected!
Wikia is a free-to-use site that makes money from advertising. We have a modified experience for viewers using ad blockers

Wikia is not accessible if you've made further modifications. Remove the custom ad blocker rule(s) and the page will load as expected.